ECRI's Lakshman Achuthan joined BNN Bloomberg TV to discuss the Chinese outlook and commodity price inflation prospects.

Back in a July 2018 BNN interview we made the correct -- out-of-consensus -- call that exchange traded commodity inflation would decline.
We made that call because our leading indexes of global industrial growth were unambiguously pointing to the slowdown that is now clear to everyone because of the more obvious weakness in PMI data.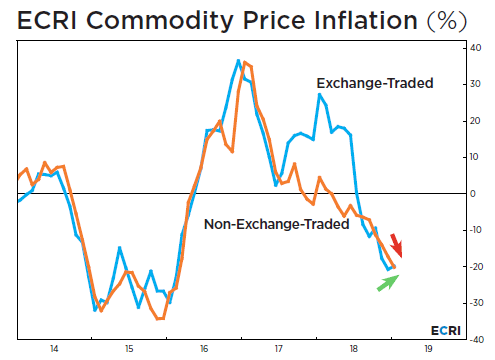 The chart Lakshman shared updates what we highlighted last July, and clearly both exchange-traded and non-exchange traded commodity price inflation remains in a downtrend.

Thus based on our leading indexes, it's premature to issue the all-clear signal for commodity price inflation.

Bottom line, inflation in exchange traded commodities, like equities, have enjoyed a risk-on bounce in recent weeks given the Fed's dovish about-face. The cyclical fundamentals haven't changed however.

Mobile users can view the interview here.

Click here to review ECRI's recent track record.

For more information on ECRI professional services please contact us.