ECRI returned to CNBC's Trading Nation to update our late August warning that the risk of a stock market correction was high.

Many think that in the post-GFC world it's all about extraordinary monetary and fiscal stimulus, so cycles are old hat and investors don't need to watch them. That's just not true.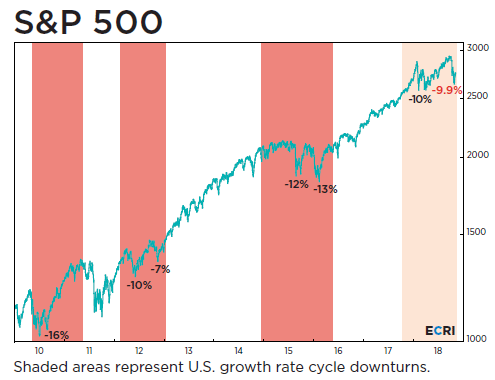 The chart shows how market corrections cluster around cyclical slowdowns, one of which is taking place right now. The shaded areas mark off periods of decelerating economic growth.

That's why, in late August with the markets ramping up in the face of our slowdown call, we said the risk of market corrections was high. Today, with growth set to slow further, we cannot offer a green light just yet.

During the interview, ECRI evidence of the current slowdown is discussed, including analysis of GDP, GDI and GDPplus.

Stepping back, the combination of stock price correction risk and Fed tightening – despite ECRI's U.S. inflation downturn call – has already challenged the typical 60/40 asset allocation, or so-called all-weather portfolios.

Click here to review ECRI's recent track record.
For more information on ECRI professional services please contact us.