Recent data releases complicate an already-awkward situation for the European Central Bank (ECB), with Q3 2018 GDP growth coming in below expectations at 0.2% and inflation climbing to its highest reading since 2012.

Yet, this is another example of a real-time ECRI forecast coming to pass.

In its July International Focus report, based on its full array of proprietary leading indexes, ECRI warned clients that a "combination of falling economic growth and rising inflation poses a challenge for ECB policymakers [who expect] solid growth ahead, while ECRI's indexes show that a cyclical slowdown is already underway."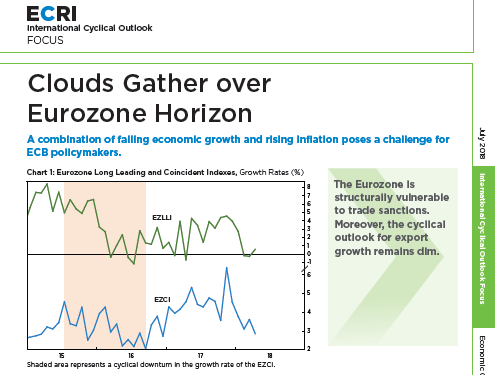 Unlike the Fed, the ECB has a single policy mandate, i.e., to assure price stability over the medium term. So, if inflation continues to overshoot its expectations, the ECB will be pressured to act more hawkishly, despite being blindsided by the economic slowdown that is taking hold.

This scenario is especially problematic if ECRI's forward-looking indexes for Eurozone growth remain weak, and those for inflation stay strong.

Please contact us if you would like to learn more about ECRI services and review the complete July client report in the context of an introductory call.