This week China reported a drop in exports that surprised the consensus.

In contrast, over the summer, ECRI's leading indexes were flagging a worsening outlook for Chinese exports.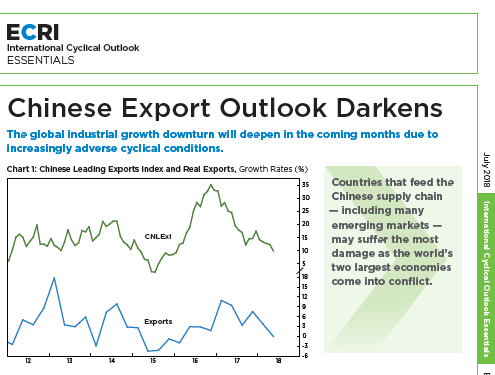 Download July 2018 International Essentials report excerpt here.

The exports growth weakness evident in the latest data is part of the larger global industrial growth slowdown that ECRI flagged in the spring of 2018, with the warning, "Global Industrial Outlook Weakens."

Download April 2018 International Essentials report excerpt here.

And by fall 2018 the slowdown was in play, but still set to worsen.

But as ECRI's Lakshman Achuthan describes, this is not all about trade war, as some might assume. In fact, the slowdown first showed up in ECRI's leading indicators, following which the trade war began, "delivering a one-two punch" to China's growth prospects.

Subsequently, our research showed that global industrial growth prospects remain weak. Today ECRI continues to employ our cyclical framework of leading indexes for 21 economies to catch the next leg, up or down, in the cycle.

Download our recent track record here in PDF.

For information on ECRI professional services please contact us.