The full version of this report was released to ECRI clients on Feb. 9, 2018 -
Household consumption plays a major role in the upswings and downswings in economic growth for all developed economies, which is why ECRI's long leading indexes can also shed light on the outlook for consumer spending. Japan is a case in point, where household consumption accounts for about 55% of GDP, and has a cyclical relationship with ECRI's Japanese Long Leading Index (JALLI).
The consensus believes that good economic growth will continue, largely because the Japanese economy has experienced its longest uninterrupted period of positive GDP growth since the mid-1980s. The Bank of Japan also expects solid corporate and household spending, raising its 2018 fiscal year GDP growth forecast in its January monetary policy meeting.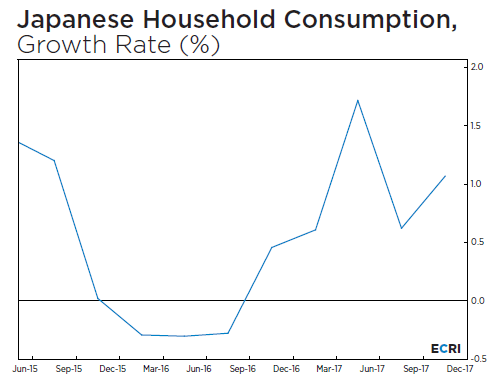 The current optimism is no surprise to ECRI. More than a year ago, we forecast a brighter outlook, including that for Japanese business investment, and the year-over-year (yoy) growth rate of Japanese non-residential business investment then hit a 13-quarter high in Q3 2017. However, after improving since the spring of 2016, yoy growth in household consumption dropped in Q3 (chart), before ticking up a bit in Q4 2017.

Given that Prime Minster Shinzo Abe has pursued policies to spur household spending to thwart deflation, it is central to the broader Japanese economic outlook as to whether the household consumption growth will hold up or weaken in the coming quarters. The latest update to the JALLI offers an answer to that question.

Click here to review ECRI's track record, including member report excerpts.

For more information on ECRI professional services please contact us.